MicLink
FASI ViewMic Software & MicLink Interface
Centralize Process Control For Up To 16 Measurement Devices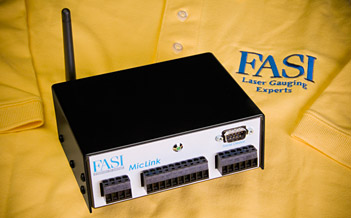 New ViewMic software from FASI, Inc. lets you monitor up to sixteen remote measurement devices in one place, so you can control your processes easily and efficiently. The software provides recipes and tolerance checking with on-screen color coding, optional alarm outputs, trend charts, SPC data collection and reporting, plus data logging to Microsoft Excel.
ViewMic interfaces with any device that automatically transmits measurement data via a serial port, including:
Beta LaserMike processors and gauges (2000, 192, 282 series and others)
DataPro 3000 series processors
PrecisionPro 2000 processors
BenchMike
Accuscan
MicLink uses a short serial cable at the production line to connect to a measurement device and then transmits data wirelessly to a remote PC equipped with ViewMic. MicLink provides five dry contact relays for alarm outputs, four digital inputs, and a length and line speed encoder input.
Alternatively, you can use serial cables to connect measurement devices directly to the ViewMic enabled PC.
MicLink Specifications
Wi-Fi 2.4 GHz IEEE 802.11b
RS-232 Connection to Processor, Laser
Gauge, or other measurement device Male DB9 –
transmitting on pin 3 / receiving on pin 2 1200, 2400,
4800, 9600, 19200, or 38400 Baud 5, 6, 7, or 8 Data
Bits No, Even, or Odd Parity 1 or 2 Stop Bits Flow
Control – None, Software, or Hardware
Length Encoder Input Pulse encoder
input (with or without direction signal) Or Single
ended quadrature encoder input 0 – 30 V Up to 40
MHz
Relay Alarm Outputs SPST – NO Up
to 5A at 30 VDC
Digital Inputs Inputs pulled to
Ground via 100K resistors Input High Voltage – 3.5 V
min (5.3 V max) Input Low Voltage – 1.5 V max (-0.3V
min)
Power Supply In 8 – 30 V 0.75 –
1.25 A
Environmental Operating
Temperature Range: 5 – 55 C Humidity: 0 – 90%
non-condensing