LaserMike Service & Calibration
No Company Has More Experience & Expertise Servicing Beta LaserMikeTM Equipment Than FASI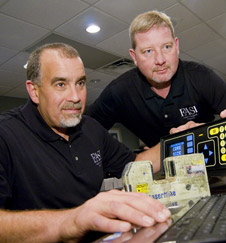 It's a bold statement, but one backed up with solid facts:
Our team of OEM qualified service technicians have accumulated nearly 200 years of experience servicing Beta LaserMike products.
FASI specializes in calibrating, maintaining, repairing and refurbishing laser-based measuring instruments, which are substantially different from calibrating CMMs and other measuring devices. This allows us to focus on the finest details, perform more thorough processes and utilize the most current technologies and procedures.
Four strategically located service centers for prompt response.
Calibration
Per the QS 9000 Standard, only ISO/IEC17025: 2005 accredited service providers may calibrate laser micrometers. FASI is the only such accredited service company specializing in laser measuring instruments.
Calibration by FASI includes all of these components:
 Custom fixtures that assure proper positioning of gauge pins
Custom calibration procedures based on years of experience and manufacturer's specifications
Includes 2 mastered points
Check of full range with multiple gauge pins traceable to NIST
Careful cleaning of the internal and external optics
Precise verification of optical alignment
A thorough linearity check
Comprehensive scan-across and focus tests that assure optimum gauge performance throughout its working area
Repeatability tests
Check and adjust dither as necessary
Functionality testing of keypads, outputs and ports
Calibration of all libraries
Issuance of a certificate of calibration
If calibration determines your equipment requires repair, FASI can take whatever steps are necessary to bring your instrument into compliance.
For Fast, Dependable, Experienced Service Click, or Call 937-898-4300